"Pardon Our Dust" Virtual Meeting Set for Tuesday, Oct. 27; Comments Due Nov. 13, 2020
https://www.fairfaxcounty.gov/transportation/projects/route28-widening 
The Fairfax County Department of Transportation (FCDOT) will hold a "Pardon Our Dust" virtual meeting on Tuesday, Oct. 27, 2020, at 7 p.m., to present the plans for initial construction of the Route 28 widening project. (NVTA regional funding: $26M)
The project will widen existing Route 28 from four to six lanes from just north of the bridge over Bull Run to the interchange at Route 29. The meeting will provide more detail on the project's final design and construction schedule, including initial construction work that is anticipated to begin in late 2020. This initial work will be limited to temporary shoulder widening along both the northbound and southbound roadways between the Bull Run bridge and Route 29 to provide space for lane shifts. The project plans to maintain two lanes of travel in each direction during peak hours when the full roadway construction begins, which is anticipated in late Spring/early Summer 2021. The project presentation will be posted here prior to the meeting.
The meeting also will provide more information on the project's final design and construction schedule and will include an opportunity for questions from the public.
Please note: The purpose of this meeting is to discuss the Fairfax County Route 28 widening project. Fairfax County plans to hold separate public meetings in the future regarding Prince William County's plans for Route 28 improvements. The meeting on October 27, 2020, is not intended to address the improvements or alignment alternative(s) that Prince William County has proposed.
To submit comments, questions or feedback, please contact FCDOT:
Online via red feedback form link at the bottom of this page
Via email to Jim Beall, Project Manager
In writing to: FCDOT, Attn: Route 28 Widening Feedback, 4050 Legato Road, Suite 400, Fairfax, VA 22033
By phone: 703-877-5673; TTY 711
Comments are due by Friday, Nov. 13, 2020.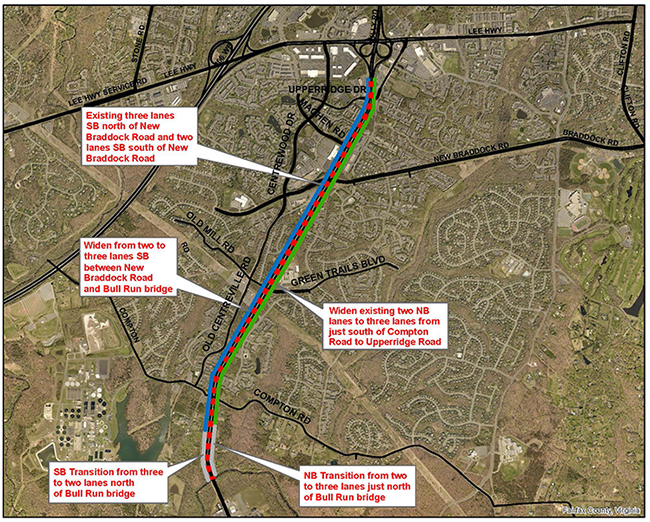 Project Background
Route 28 serves residential and business destinations from Remington in Fauquier County to Route 7 in Loudoun County, connecting Route 29, Route 234, I-66, Route 50, Dulles International Airport and Route 267 in between. The corridor has experienced increased congestion for many years, particularly in Prince William and Fairfax Counties south of I-66. To address this congestion, the Fairfax County Department of Transportation (FCDOT) proposes widening Route 28 for a distance of approximately 2.3 miles from the existing bridge over Bull Run to the interchange at Route 29. The project includes:
widening the existing four lane roadway to six lanes;
adding additional lanes on side streets to improve intersections;
upgrading existing traffic signals;
removing selected unsignalized median crossovers (breaks);
improving bicycle and pedestrian connections and crossings, including new 10′ shared-use path on both sides of Route 28; and
installing Stormwater management facilities as required to meet State and County criteria.
The project was endorsed by the Fairfax County Board of Supervisors as part of the County's Transportation Priorities Plan (TPP) on January 28, 2014 (Project ID#62).
Fairfax County and the D-B contractor will coordinate with property owners well in advance of construction. Work hours are set by VDOT and Fairfax County. Night work is likely. The D-B contractor will be required to maintain pedestrian and vehicular traffic and signals during construction. No lane closures will be allowed during peak travel hours.
FCDOT ensures nondiscrimination in all programs and activities in accordance with Title VI of the Civil Rights Act of 1964 and the Americans with Disabilities Act (ADA). If you need this information in an alternate format or would like to request reasonable accommodations for persons with disabilities or limited English proficiency, contact FCDOT at 703-877-5600, TTY 711. Requests for assistance must be received at least 7 business days in advance of an event.